Our workshop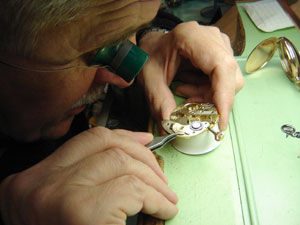 Watch maker Hans Bräuer at work
Our watch makers workshop knows no creative boundaries, no grey zones. Accurate mechanics is the result of devotion to precision.
Patience, knowledge and experience, influence and form the talents of a watch maker into a master of class. Hans Bräuer is an example of such craftsmanship, in nearly 30 years of service since his masters qualification, he has acquired and maintained many of these special talents. He has earned the right to call himself an artist of the kind that they no longer make. With tremendous care and a steady hand he breathes new life into the fine mechanics of professionally restored timepieces of all kinds. Your treasures are safe in his hands.
It goes without saying that all timepieces that we sell are thoroughly examined, both inside and out and each one must pass our rigid set of quality controls. All sales are accompanied by a 12 month guarantee which ensures the perfect running condition.